KEY FEATURES OF TRADITIONAL CONCRETE DEMOLITION

Proven
These conventional demolition techniques have been used for decades in the demolition industry.

Safe
Working on any demolition site poses risks, but when it comes to high-reach or long-reach demolition, particular care must be taken. Robore's operatives are trained to the highest standards of health and safety so you can be sure that the project will be carried out with the right precautions.

Efficient
With a wide range of high-tech demolition machines to choose from, Robore are able to provide  the right plant and machinery for the project in hand, along with highly trained and skilled operatives to carry out works safely and effectively.
CONTACT ROBORE TODAY FOR YOUR TRADITIONAL CONCRETE DEMOLITION REQUIREMENTS
Free Advice From Our Friendly And Experienced Staff
What is Traditional Demolition?
There are some conventional demolition methods which have been used by the industry for years, and this is what the term 'traditional demolition' refers to.
High-reach or long-reach demolition
This type of demolition is required for structures which are extremely tall, such as high-rise and multi-storey structures. For this, special excavators which are able to be operated at height are used to carry out the work. Typically, high-reach excavators have boom lengths measuring between 19-50 meters in length.
Soft strip demolition
During soft strip demolition, everything non-structural is removed from inside and outside a building in preparation for demolition or refurbishment. This kind of demolition is the most popular traditional demolition method used today, and is also referred to as strip-out demolition.
Items are carefully removed to ensure that as much material as possible can be recycled or reused on future projects – making it an environmentally friendly option. Although soft strip demolition is labour intensive, the method is cost-effective overall as material can be reused.
How is Traditional Demolition
carried out?
The type of demolition method that is required will depend on the size and shape of the structure, the building materials, and the purpose of demolition (such as clearing space for a new building or renovating the existing structure).
Robore's team carefully evaluates all projects specific to customer requirements in order to create a detailed plan of action. We work closely with our clients throughout the process, from start to finish.
There are a number of safety considerations for high-reach demolition projects. These include:
Ensuring high-reach excavators are operated at all times by trained, experienced operators (such as Robore's team).
Following manufacturer's guidelines when operating machines.
Only using machines for their intended purpose (e.g. long-reach excavators should not be used as cranes for high-reach applications).
Fitting long-reach excavators with a boom angle warning system to alert operators of any risks.
Inspecting machines daily before use by competent personnel.
Checking working platforms regularly for stability.
Using radius charts to ensure that excavators operate at a safe distance at all times.
Checking fall zones to ensure that debris falls within a safe distance.
Clearing debris periodically.
What is Traditional Demolition used for?
Traditional demolition methods are used for a wide range of projects and applications. Robore has extensive experience working in all kinds of environments, including rail side, nuclear, aviation, hospitals and education settings as well as mainstream construction projects.
CALL OUR TEAM TODAY FOR A FREE COMPREHENSIVE QUOTE AND EXPERT ADVICE
We offer trditionl demolition services at the most competitive rates,
contact us for a FREE no obligation quote TODAY.
Robore are the UK's leading Diamond Drilling, Concrete Cutting, Controlled Demolition and Passive Fire Protection contractor. We provide bespoke solutions to our extensive client base within the construction industry, which spans the public and private sectors.
Robore operatives hold all relevant health and safety qualifications including CSCS, NVQ Level 2 in Diamond Drilling and Sawing, Demolition Operatives Awareness, SSSTS (Site Supervisor Safety Training Scheme), SMSTS (The Site Management Safety Training Scheme for the construction and civil engineering industry), IOSH Managing Safely, Asbestos Awareness, PTS, Brokk, IPAF, Confined Space, Track Awareness (London Underground, Network Rail and the DLR) and First Aid training.
Health & Safety is imperative to us at Robore and we're proud to be members of the following organisations; CHAS, Constructionline GOLD members, RoSPA, CBH, DSA, IFC, ISO 9001, ISO 14001, Building Confidence and many more. It is our aim to provide a safe working environment by means of high levels of health and safety management and training for all our operatives, management team and employees who could be affected by our operations on site. Our management systems are regularly audited by external bodies and we are proud to constantly and consistently achieve the high pass marks required but always with a view on continual improvement.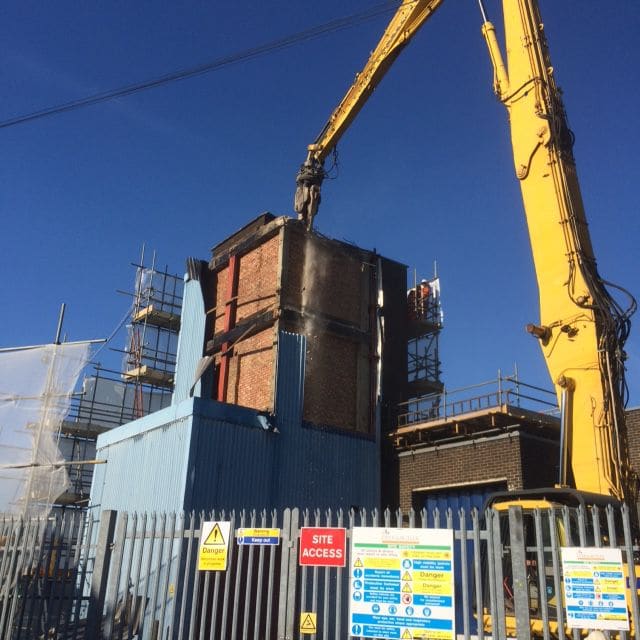 Our Expertise
Our expertise is unmatched. Established in 1986, Robore are one of the most established diamond drilling, concrete cutting and controlled demolition companies in the UK giving us more than three decades of market experience and solutions. We ensure the highest industry standards are met on every project and have the following:
Over 150 years of combined senior management experience within the industry
100 + highly trained staff and operatives and staff
Free site surveys and specialist advice
Stringent health and safety procedures
State of the art equipment, including Europe's largest fleet of Brokk & Husqvarna robotic demolition machines
An unrivalled reputation for delivering demolition projects safely on time and on budget
Certifications and Accreditations
The Robore Promise
Over 150 + years of combined managerial experience We use the Latest & Most Advanced Equipment
Accredited to the Highest Industry Standards London's Leading Service Supplier to the Construction Industry