CONTACT ROBORE FOR YOUR PASSIVE FIRESTOPPING REQUIREMENTS
Free Advice From Our Friendly And Experienced Staff
What is Passive Firestopping?
You'll often hear fire strategies referred to in two ways – 'active' and 'passive' fire protection. In any building, both approaches are vital to ensure safety and to minimise structural damage to the building.
Active fire protection describes systems or processes designed to extinguish or suppress a fire, such as blankets, extinguishers or sprinkler systems, as well as fire detection using smoke or heat detectors.
Passive fire protection refers to the structural elements required to prevent or slow the spread of flames. This helps contain the fire to one area in order to minimise the risk of injury to the occupants,and provide protection to the structure of the building to maintain its structural integrity. This allows it to better withstand high temperatures.
How does Passive Firestopping work?
Robore Fire Protection install specialist-tested solutions to prevent and slow the spread of fire, allowing the occupants more time to safely evacuate the premises and minimising the risk of damage to the building itself. Strategies include providing fundamental compartmentation, structural stability, fire separation and a safe means of escape.
These strategies are achieved by installing specialist tested systems which improve the fire resistance of the structure. This in turn delays the spread of flames and prevents secondary ignition, providing flame-resistant heat-insulating barriers, containing smoke particles, and reducing the risk of damage to the structural integrity of the building.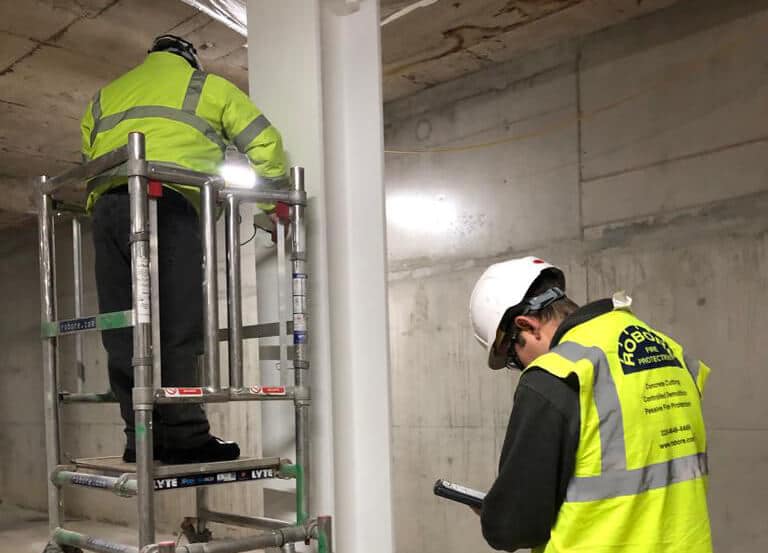 What is Passive Firestopping used for?
Passive firestopping is an essential component used to protect buildings from the risk of damage, as well as protecting the inhabitants or users from injury or harm. As part of the building regulations, all buildings must include elements of passive fire protection in order to stay compliant with the current British legislation. On many projects, Robore Fire Protection are able to retrofit or carry out remedial works to older buildings with products that will achieve the required fire safety rating. This is dependent on the build, installation and the fire rating required.
CONTACT ROBORE TODAY FOR YOUR PASSIVE FIRE PROTECTION REQUIREMENTS
We offer Passive Fire Protection services at the most competitive rates, contact us for a FREE no obligation quote TODAY.
Our Passive Firestopping Services
A robust passive fire protection strategy will be made up of a number of vital components that work together to provide safety and protection in the event of a fire.
Fire compartmentation is a vital strategy in passive fire protection. This involves contracting a certified installer to install specific products to divide the building or premises into separate 'fire compartments' which, when closed off, will prevent or delay the fire spreading within the building or to an adjacent property. Compartmentation can be considered both horizontally (within the same floor of a building) and vertically (particularly in tall structures such as high-rise buildings). Lift shafts, stairwells and ventilation systems should all be adequately compartmentalised to prevent the spread of fire. In the event of a fire, this provides valuable extra time for the occupants to safely evacuate the building via escape routes and makes the job of tackling the fire easier for the emergency services.
In all buildings, new and old, there will always be joints, gaps in the walls and floors or openings to allow for service penetrations to pass through, including cables, pipes and  ventilation systems. Where these spaces are not sealed, fire and smoke will spread throughout the building. Penetration sealing involves installing tested products to achieve compartmentation, such as pipe collars, intumescent sealants, ablative coated fire batt and many other closures. At Robore, we are fully certified and work to the current fire tests standards which covers installations of ducts, fire dampers, penetration seals, linear joint seals, service ducts and shafts, conveyor systems and their closures, smoke extraction ducts, and single compartment smoke extraction ducts.
Hidden cavities and voids pose a fire risk in buildings, and therefore need to be compartmented by using fire protection barriers, or other fire-resistant installation methods. This is particularly important when these cavities may spread across several compartments – such as voids between a false/suspended ceiling and soffit, which would otherwise extend across an entire floor of a building. Cavity barriers should be considered and carried out during the design and construction phase of a building as they're normally located in areas with restricted access once the building is complete. Once installed, they're usually hidden from view.
Structural cladding can be used to provide up to four hours of fire protection for structural steel beams. As these are load-bearing, it is crucial to ensure that they retain their integrity to prevent building collapse. At Robore we use fire protection boards manufactured from stone wool, which are water-repellent, rot-proof and non-combustible. They achieve a classification of A1 in accordance with current BS & EN standards and can be fitted to provide either dry joint solutions (offering up to two hours fire protection) or glued joint solutions (up to four hours fire protection).
Fire doors are usually made from timber, aluminium or steel. They are specially designed to delay the spread of fire and limit the smoke and heat transmission through compartments. As doorways are large openings in buildings, fire doors are vital to maintain compartmentation, therefore the frames, hinges, closures, ironmongery and glass panels must all be selected to perform under the current EN standard. Fire doors often have an intumescent seal or smoke seal, designed to expand and restrict the spread of smoke and flames in the event of a fire. They may also have a self-closing system to ensure they are not left open when not in use. Final exit doors must also be considered to allow occupants to exit the building and may feature an automatic door opener, push bar or pad which allows the door to easily swing open when pushed against.
Steel frame structures need to be protected to allow them to withstand high temperatures in the event of a fire, protecting the integral structure of a building. This can involve adding a vast range of coatings and paints that help retain the integrity of the steel. For example, intumescent applications prompt a chemical reaction which takes place in the event of a fire, causing the coating to expand protecting the steel from heat and protecting the underlying material from damage.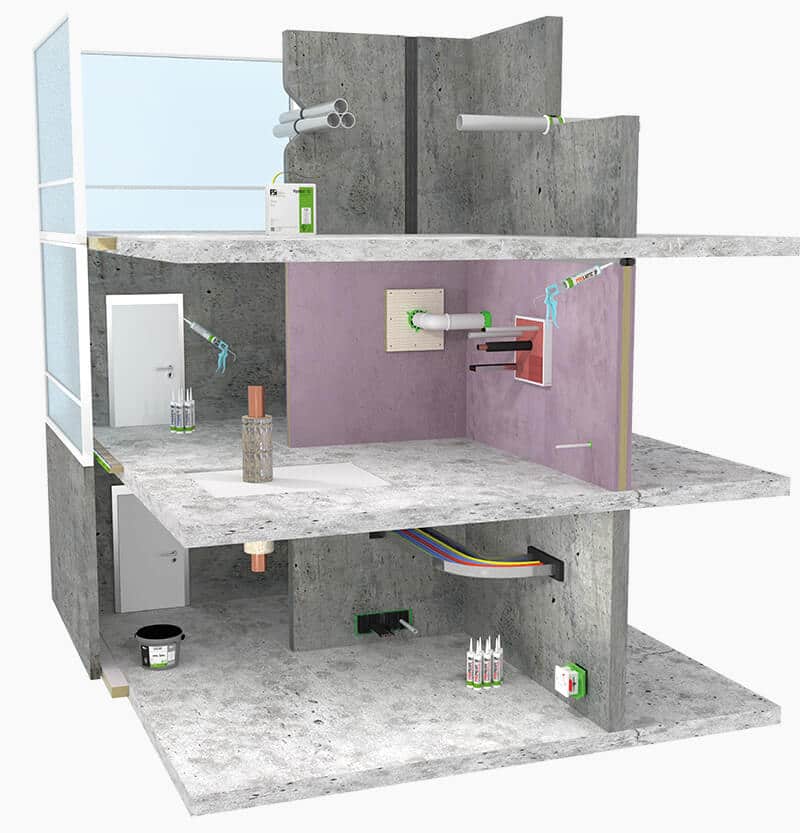 British and European Standards
At Robore, we pride ourselves on stringently adhering to the appropriate British and European test standards for every installment. These are in place to ensure that building materials and methods perform appropriately in the event of a fire, and exist as a safeguard to clients, insurers and the public. When discussing your project requirements, we will be more than happy to provide details of the relevant British and  European standards and how our installations, materials and methods meet these requirements.
Why use Robore? The UK's leading Passive Protection contractor
The UK's leading Passive Firestopping Protection contractor
Robore are a leading fire protection installer across London and the UK. We have an excellent reputation with our extensive client base, and are known for our experience, knowledge, skill and expertise in designing, installing and maintaining passive firestopping solutions.
Robore Fire Protection holds accreditation with the International Fire Consultants Group (IFC), amongst many others. The IFC is an internationally-recognised authority on all aspects of fire safety.
Robore's experienced management team and highly skilled workforce, allows us to successfully deliver projects safely, on time and budget to our ever growing client base.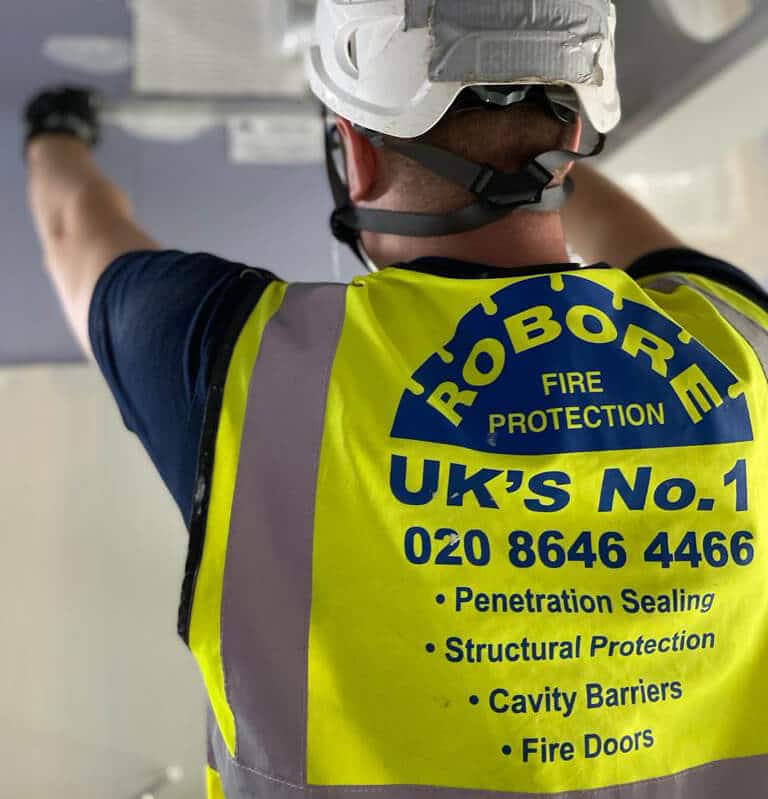 Our Expertise
Our expertise is unmatched. Established in 1986, Robore are one of the most established passive fire protection installers in the UK giving us more than three decades of market experience and solutions. We ensure the highest industry standards are met on every project and have the following:
Over 150 years of combined senior management experience within the industry
100 + highly trained staff and operatives
Free site surveys and specialist advice
Strict health and safety procedures
An unrivalled reputation for delivering demolition projects safely on time and on budget
Certifications and Accreditations
The Robore Promise
Over 150 + years of combined managerial experience We use the Latest & Most Advanced Equipment
Accredited to the Highest Industry Standards London's Leading Service Supplier to the Construction Industry