KEY FEATURES OF CONCRETE BREAKING

Remotely Operated
The remote operation features of our Brokk demolition machines make them ideal for use in a range of hazardous and challenging environments, such as nuclear projects and asbestos removal. Our highly trained operatives have extensive experience working in these types of challenging environments.

Minimal Disruption
The Brokk can be fitted with hydraulic crunching jaws which eliminate noise and vibrations on-site. Electronically powered models emit no pollution or exhaust, making them environmentally friendly.

Compact
These robotic demolition machines pack a powerful punch into a lightweight frame that's maneuverable no matter how difficult the on-site conditions are. Our demolition robots range from 500kg to 12 tons. The smallest models allow our team to move the machine over debris, climb stairs and fit through doorways to access even extremely restricted areas.

Safe
Cutting-edge technology allows our operatives to work from a safe distance, making the most of cable control and remote Bluetooth operating systems.
CONTACT ROBORE FOR YOUR CONCRETE BREAKING REQUIREMENTS
Free Advice From Our Friendly And Experienced Staff
What is Concrete Breaking?
Concrete structures often need to be removed during demolition and renovation projects – and breaking up large slabs of concrete into smaller sections is the easiest way to do this. Although it's possible to complete smaller breaking tasks by hand, it is a strenuous and time-consuming job that can also be physically dangerous. Robore's cutting-edge robotic technology speeds up the process, providing a safe and cost-effective solution for any concrete breaking application.
How does Concrete Breaking work?
Concrete breaking machines look similar to excavators, but they are smaller, don't have cabs and are remotely operated. Electric motors are used to drive hydraulic systems that power arms, to which breakers, crunchers, processors, shears, grapples or buckets can be attached.
Our skilled operators are able to remotely control the robots using a console. This allows Robore to carry out works without putting any of our personnel or site staff in danger. The result? A cleaner, safer, quicker and more effective method for breaking up and removing concrete structures.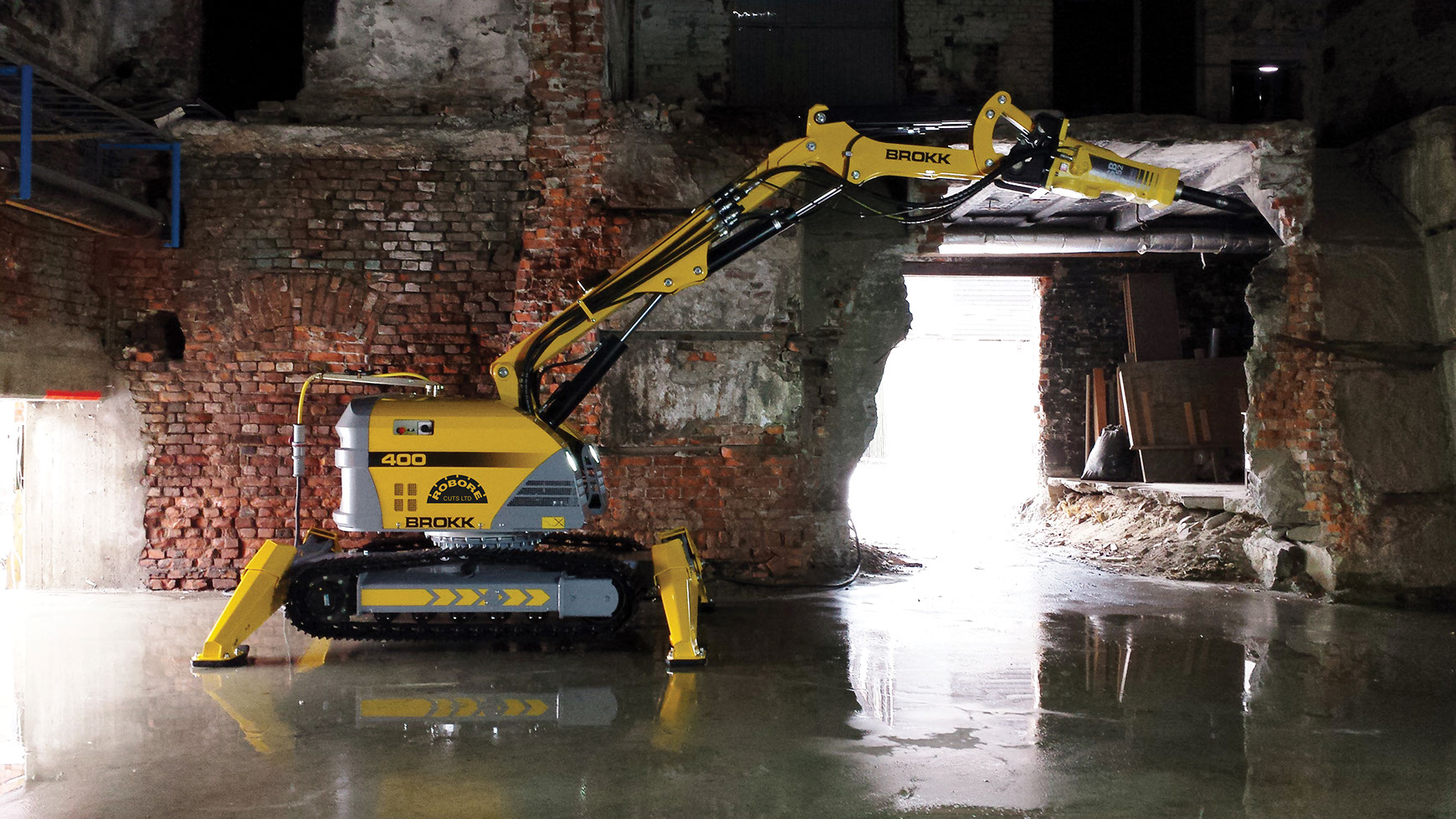 What is Concrete Breaking used for?
Our large fleet of Brokk and Husquvana demolition machines range from 500kg to 12 tons and can be used for a wide range of applications. Our fully trained operatives can tackle the most challenging projects, including:
Heavy civil engineering and construction, bridge renewal and demolition
Limited-access sites and interior demolition projects
Nuclear industry facilities involving sensitive tasks
Metal processing facilities and refractory maintenance projects
CALL OUR TEAM TODAY FOR A FREE COMPREHENSIVE QUOTE AND EXPERT ADVICE
We offer concrete breaking services at the most competitive rates,contact us for a FREE no obligation quote TODAY.
Why use Robore?
Robore operatives hold all relevant health and safety qualifications to All Robore operatives hold every relevant health and safety qualifications including CSCS, NVQ Level 2 in Diamond Drilling and Sawing, Demolition Operatives Awareness, SSSTS (Site Supervisor Safety Training Scheme), SMSTS (The Site Management Safety Training Scheme for the construction and civil engineering industry), IOSH Managing Safely, Asbestos Awareness, PTS, Brokk, IPAF, Confined Space, Track Awareness (London Underground, Network Rail and the DLR) and First Aid training.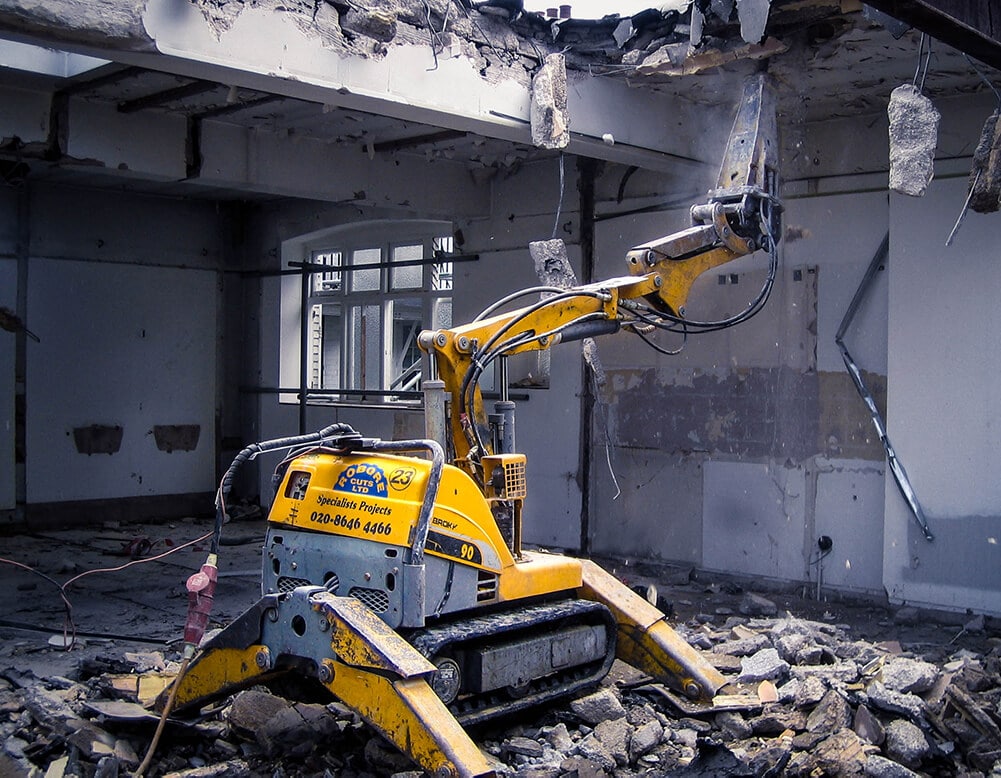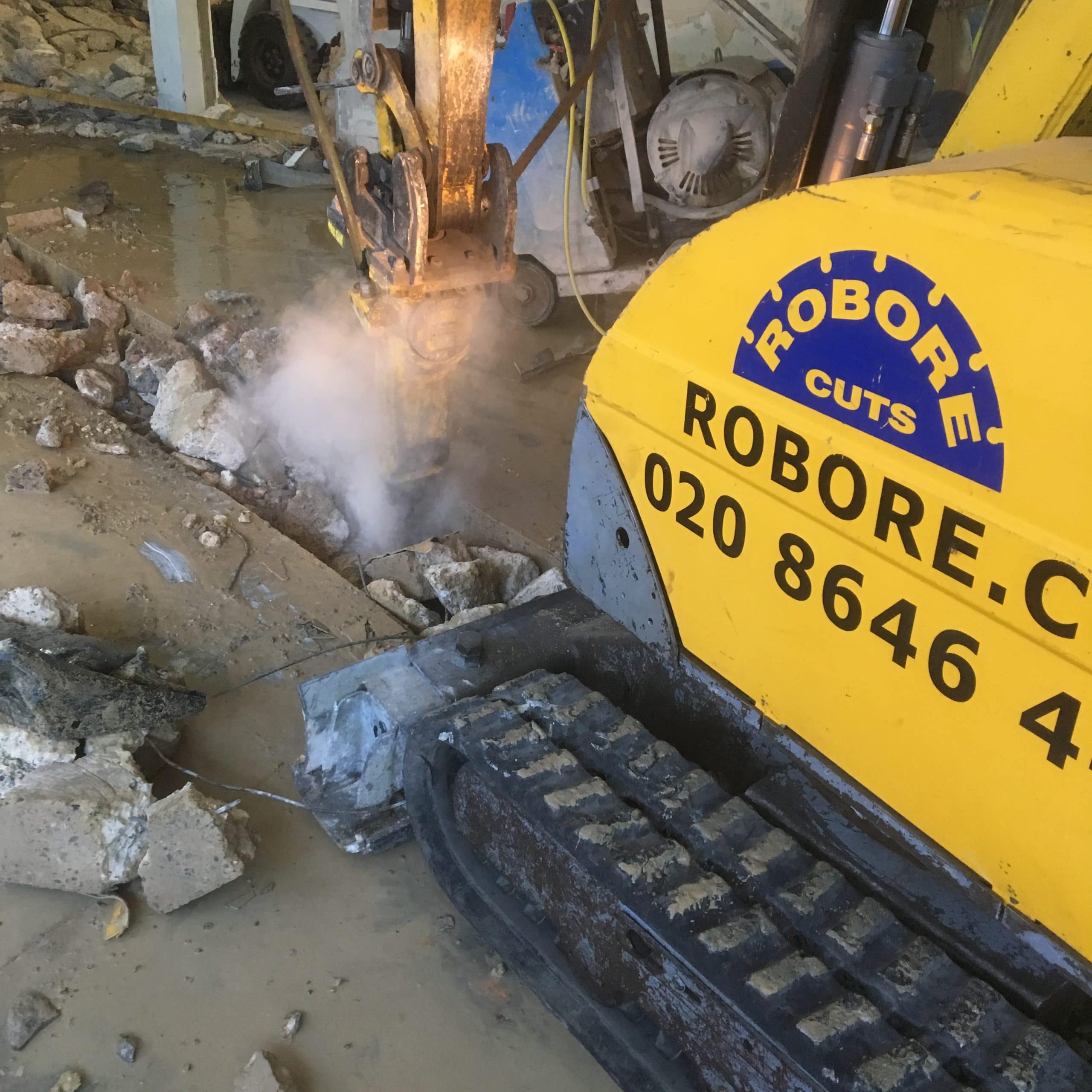 Our Expertise
Our expertise is unmatched. Established in 1986, Robore are one of the most established diamond drilling, concrete cutting and controlled demolition companies in the UK giving us more than three decades of market experience and solutions. We ensure the highest industry standards are met on every project and have the following:
Over 150 years of combined senior management experience within the industry
100 + highly trained staff and operatives
Strict health and safety procedures
Free site surveys and specialist advice
State of the art equipment, including Europe's largest fleet of Brokk & Husqvarna robotic demolition machines
An unrivalled reputation for delivering demolition projects safely on time and on budget
Certifications and Accreditations
The Robore Promise
Over 150 + years of combined managerial experience We use the Latest & Most Advanced Equipment
Accredited to the Highest Industry Standards London's Leading Service Supplier to the Construction Industry