KEY FEATURES OF DIAMOND CORE DRILLING
KEY FEATURES OF DIAMOND CORE DRILLING
Cost Effective
Diamond drilling is fast, efficient and accurate – reducing the risk of expensive structural repairs associated with other demolition services.
Minimal Waste
Diamond drilling produces a solid section of core debris, meaning fast and efficient.
Precise
When precision matters, diamond drilling delivers far more accuracy than conventional cutting methods.
High Speed
Diamond drilling is the quickest method of drilling through a vast range of hard surfaces such as reinforced concrete, brickwork, blockwork, asphalt and many more.
Minimal Vibration
Unlike percussive drilling methods, diamond drilling produces a low level of noise and vibration as well as minimal dust.
Range Of Sizes
Diamond core drill bit diameters generally range from 10mm to 1500mm and can be utilised in a variety of methods to achieve desired results to virtually any depth. The stitch drilling method may be suitable where larger openings are required.
Versatile
Diamond drilling methods can be used in challenging environments such as restricted spaces or underwater areas. Another advantage is that diamond drills can be remotely operated.
Variable Power Sources
Diamond drilling equipment can be powered by a wide range of power sources from electricity to hydraulics and compressed air. This makes diamond drilling ideal for any construction and demolition project.
What is Diamond Core Drilling?
Diamond core drilling uses a rig mounted rotary drill fitted with a specialist cylindrical drill bit. The drill bit has diamond segments welded to its cutting surface. Due to their extreme strength diamonds are ideal for cutting into a large range of solid surfaces including reinforced concrete, masonry, tile, stone and asphalt.
Diamond drilling is ideal for creating, or "coring", clean, precise holes ranging from 10mm and 1,500mm+ in diameter in hard materials such as.stone, brick and concrete walls or other materials. Diamond drilling is commonly used in construction and controlled demolition. It offers many advantages over conventional drilling methods, as it is accurate, efficient and non-percussive.
CALL US 0208 646 4466
How does Diamond Core Drilling work?
Diamond drilling systems are comprised of a mounted rig, electric or hydraulic powered drill, and diamond bit. The diamond drill bit is cylindrical and hollow, consisting of a steel tube on which diamond segments are welded to the cutting edge. These make contact with the surface being drilled. During drilling, the diamond bit rotates. Water runs through the driving shaft to cool the face of the drill and keep it free from dust. Dry diamond core drilling services are available, please Contact Us to learn more. Diamond drilling systems usually include 110v powered motors, but can also be 415v, hydraulic and or air driven systems.
Factors that need to be considered during diamond drilling include:
Type of material/surface to be cut
Size & diameter of hole
Structural resistance of the material
This will influence the equipment required to carry out the work. Our dedicated logistics team have over three decades of experience in the industry, designing bespoke diamond drilling and concrete cutting solutions for our extensive client base. Don't hesitate to get in touch with your enquiry today.
CALL US 0208 646 4466
What is Diamond Core Drilling used for?
Diamond drilling can be used to create holes in a wide array of solid materials such as concrete, masonry, metal, glass, tile and stone. It has many applications within the demolition, construction, and underground industries.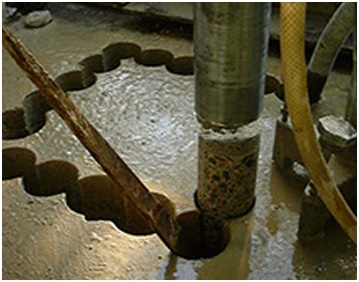 Diamond drill bits range from 10mm to 1500mm in diameter. In some cases, a larger area may need to be drilled. In this case, a technique called diamond stitch drilling is the ideal solution. Diamond stitch drilling can be used to create holes of any shape and size. This involves drilling a series of precise, overlapping holes to create the desired opening.
Underwater Diamond Drilling
Diamond drilling techniques can be used in underwater environments, making it a good option for marine and offshore projects.
CALL US 0208 646 4466
Why use Robore Cuts Ltd – the top UK and London Diamond Drilling contractor
Robore Cuts are the UK's leading Diamond Drilling contractor. We provide diamond drilling services to the construction industry in London and the South East, as well as nationally and internationally. We provide bespoke demolition, firestopping and concrete cutting services to our extensive client base, which spans the public and private sectors. Our projects range widely in size and scope, including civil engineering, road and rail, bridges, tunnels, water treatment works and historic buildings.
Robore Cuts ensure the highest industry standards on every job. We have:
30+ years of experience
100+ highly trained staff
Strict health and safety procedures
State of the art equipment, including Europe's largest fleet of Brokk & Husqvarna demolition machines
CONTACT NOW!
The Robore Promise
Over 150 + years of combined managerial experience We use the Latest & Most Advanced Equipment
Accredited to the Highest Industry Standards London's Leading Service Supplier to the Construction Industry
Robore Latest News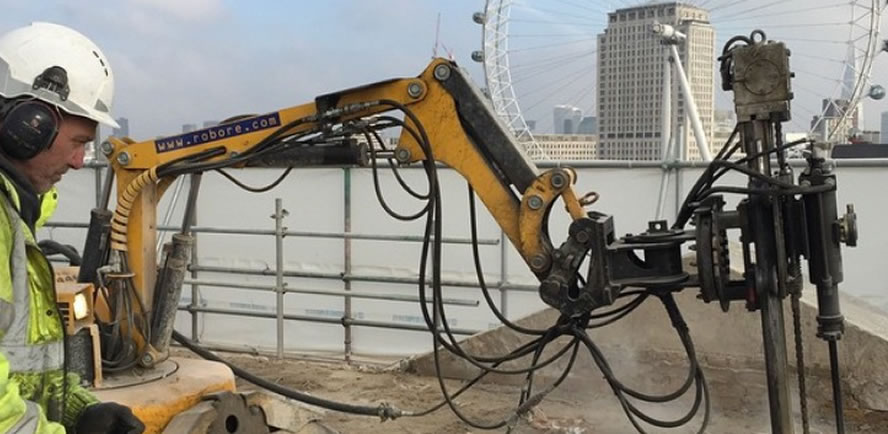 Robore acquire Holemasters Demtech Ltd
Robore, the UK's leading diamond drilling, sawing and controlled demolition contractor, are pleased to announce we have completed the acquisition of Holemasters Demtech Ltd – a deal which will make Robore-Holemasters Demtech Ltd the largest diamond drilling and sawing contractor throughout Europe.