Commitment To Regulations
Our firestopping services ensure that your building complies with the Regulatory Reform (Fire Safety) Order 2005 and Part L of the Building Regulations.
Compliance Certificates Issued
Whenever we test or install firestopping systems and equipment, we issue compliance certification for your records.
Highly Trained Contractors
Our operatives are highly trained and experienced.
Specialists In Major Projects
We are experts in managing large-scale firestopping projects across a wide range of industries – whether you need solutions for a new residential complex or multiple office blocks.
Nationwide Coverage
We operate largely in London but our extensive team has the capabilities to implement passive fire protection nationwide.
Tailored Solutions
Our specialists implement firestopping solutions based on the specific requirements and design of your property. We can advise you on suitable solutions as well as deliver them.
A LEADING FIRESTOPPING CONTRACTOR IN LONDON
Robore provides expert firestopping solutions using the latest technology. Whether you require solutions for your business, a commercial building or a new residential property, we will work with you to develop a system that fits with your day-to-day requirements to provide ultimate protection.
CALL US TODAY TO SPEAK TO ONE OF OUR EXPERTS
OUR FIRESTOPPING SERVICES IN LONDON
Fire barrier systems
We install fire barrier systems within a building's ceiling voids, roof voids and flooring. This allows for the compartmentation of the property's rooms, preventing the movement of smoke or flames within the space and restricting fire to a single area. We offer various types of fire barriers depending on the individual project and the level of fireproofing you require.
Passive fire protection
We design, install and survey bespoke passive fire protection systems and solutions for buildings of all sizes. Our discreet systems effectively prevent the spread of fire and smoke from one room to another. All our solutions are implemented in line with the Regulatory Reform (Fire Safety) Order 2005 and can be fully customised to suit the requirements of your building, with options including penetration sealing and flame-retardant surface coatings.
Fire penetration seals
We provide various types of fire penetration seal technology to compartmentalise your building and prevent the spread of fire and smoke within the property. Our seals effectively fill any gaps between fire-resistant areas, including around pipes, walls and load-bearing floors. Our solutions include insulation batts, mortar, pillows, and pipe wraps and closures.
The Robore Promise
Over 150 + years of combined managerial experience We use the Latest & Most Advanced Equipment
Accredited to the Highest Industry Standards London's Leading Service Supplier to the Construction Industry
Robore Latest News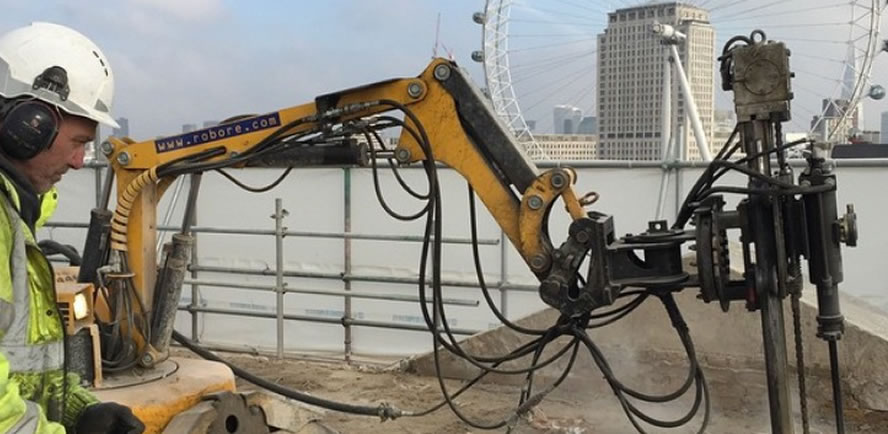 Robore acquire Holemasters Demtech Ltd
Robore, the UK's leading diamond drilling, sawing and controlled demolition contractor, are pleased to announce we have completed the acquisition of Holemasters Demtech Ltd – a deal which will make Robore-Holemasters Demtech Ltd the largest diamond drilling and sawing contractor throughout Europe.